July 28, 2023
What's Happening in Traffic
UPCOMING: Single lane of alternating traffic on Highway 8
In the coming weeks, overhead sign installations on Highway 8 will require one night with traffic reduced to an alternating single lane. This work is currently scheduled for the night of Tuesday, August 8. Once the date is confirmed it will be shared on electronic message boards at least 48 hours in advance.
Please expect delays during this closure.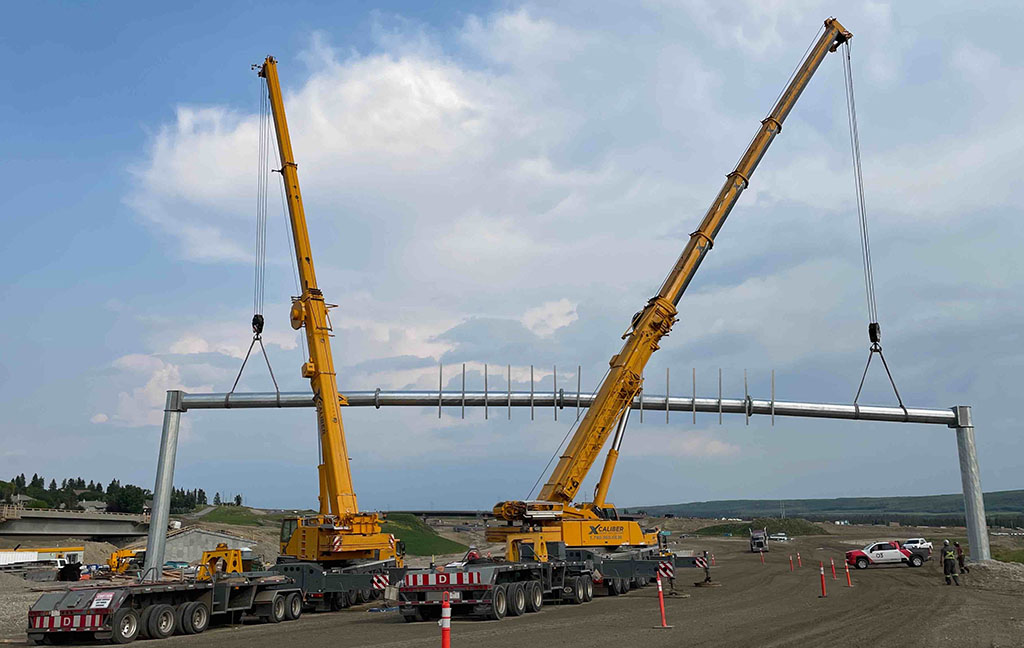 ---
All work is weather dependent. Please check 511 Alberta and The City of Calgary's traffic information map and pathways & bikeways map for information about detours and closures. For all other project information, please visit westringroad.ca. 
We appreciate your patience during construction.
---

North Pathway Open and South Pathway Remains Closed
The new permanent pathway connection to the pedestrian bridge on the north side of the river is open and the temporary connection has been removed.
Pathway repairs on the south side of the Bow River to restore sections washed away from heavy rains continue.
Completing the Outlet Control Structures
Outlet control structures regulate the amount of water leaving a storm pond. On the North project, these structures are typically large concrete boxes with an internal weir – also known as a two-cell system – to control the rate of discharge from a storm pond.
As finishing work continues on the stormwater infrastructure, the concrete and maintenance hole covers are being installed on the outlet control structures.

Grading Westbound Highway 8 / Northbound Stoney Trail
West of Stoney Trail
The area west of Stoney Trail, including the former intersection at 101 Street S.W., is being regraded for the westbound Highway 8 lanes.
East of Stoney Trail
Grading the final alignment for the westbound Highway 8 lanes between Springbank Hill and the Slopes is underway.
This symbol indicates point of view in the photos
Old Banff Coach Road Connections
At the west project limits, paving and concrete work continue to advance at the Old Banff Coach Road / 101 Street S.W. intersection.
East of Stoney Trail, the westbound lanes are being paved and a half signal for pedestrians crossing Old Banff Coach Road is being installed. A half-signal is a traffic light that only turns red when pedestrians need to cross.
Utilities & Drainage at Bow Trail
Work to install utilities and stormwater management infrastructure at the Bow Trail interchange continues.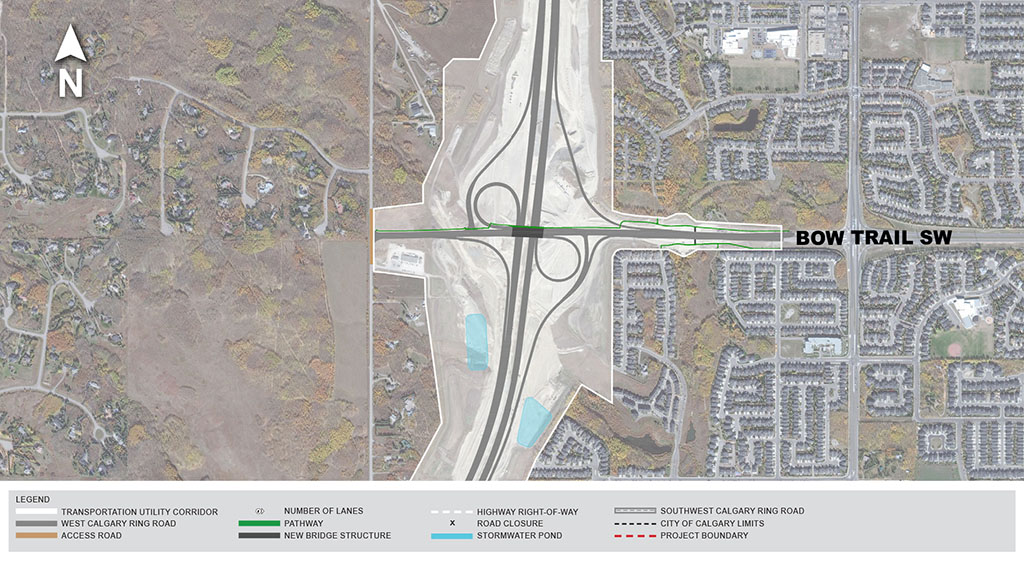 https://westringroad.ca/wp-content/uploads/2018/11/WCRR_300x300_icon_5.png
0
0
ErinR
https://westringroad.ca/wp-content/uploads/2018/11/WCRR_300x300_icon_5.png
ErinR
2023-07-28 14:00:00
2023-08-08 14:02:44
Project Update