The map below is interactive. Click on a highlighted area to see an image for that location. Please note: Internet Explorer is not compatible. Please use another browser such as Google Chrome or Safari to view the map.
Centre Piers Standing Tall January 2021
Looking east at the centre piers standing over 30 feet tall for the directional ramp that will be over 40 feet above the ground when complete.
Bridge Deck Poured December 2020
Tarps cover the recently poured concrete bridge deck to maintain moisture and temperature.
Girders Lifted January 2021
Looking east at the north and south spans over the Trans-Canada Highway.
Bridge Superstructures January 2021
Looking east at four new mainline Stoney Trail bridges at various stages of work on the bridge decks.
Open to Traffic November 2020
Opening this basketweave bridge was a major milestone.
Abutment Piling December 2020
Looking north at the steel piles for the bridge abutment.
New Bridges Open to Traffic December 2020
Looking west, a bird's-eye view of the Trans-Canada Highway detour over the new bridges at Valley Ridge Boulevard N.W.
Girders Installed January 2021
One of only four bridges on the project supported by steel girders, each girder is over 60 metres long and longer than the Leaning Tower of Pisa!
Centre Piers November 2020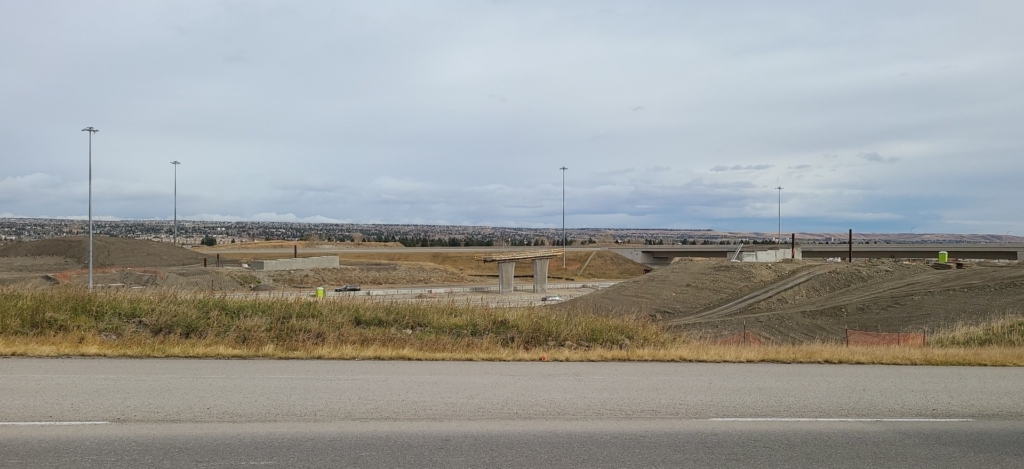 Looking northeast at the centre piers, the super-elevation is visible - the outside road edge is higher than the inside to offset forces acting on a vehicle traveling around a curve.
Constructing the Bridge Deck December 2020
Looking west at the diaphragm rebar assembly. The diaphragm rebar will be filled with concrete, tying in the girder ends over the centre pier.
Earthworks November 2020
Looking west, the completed reinforced soil slope is visible on the left.
Abutment Piles December 2020
Looking south at steel piles for the south abutment.
Girders Lifted February 2021
Looking east, all four girders, each approximately 36 metres long, have been successfully installed.
Soil Nail Wall Completed December 2020
The soil nail wall will stabilize the steep slope along the re-aligned Crestmont Boulevard S.W.
Stormpond Constructed September 2020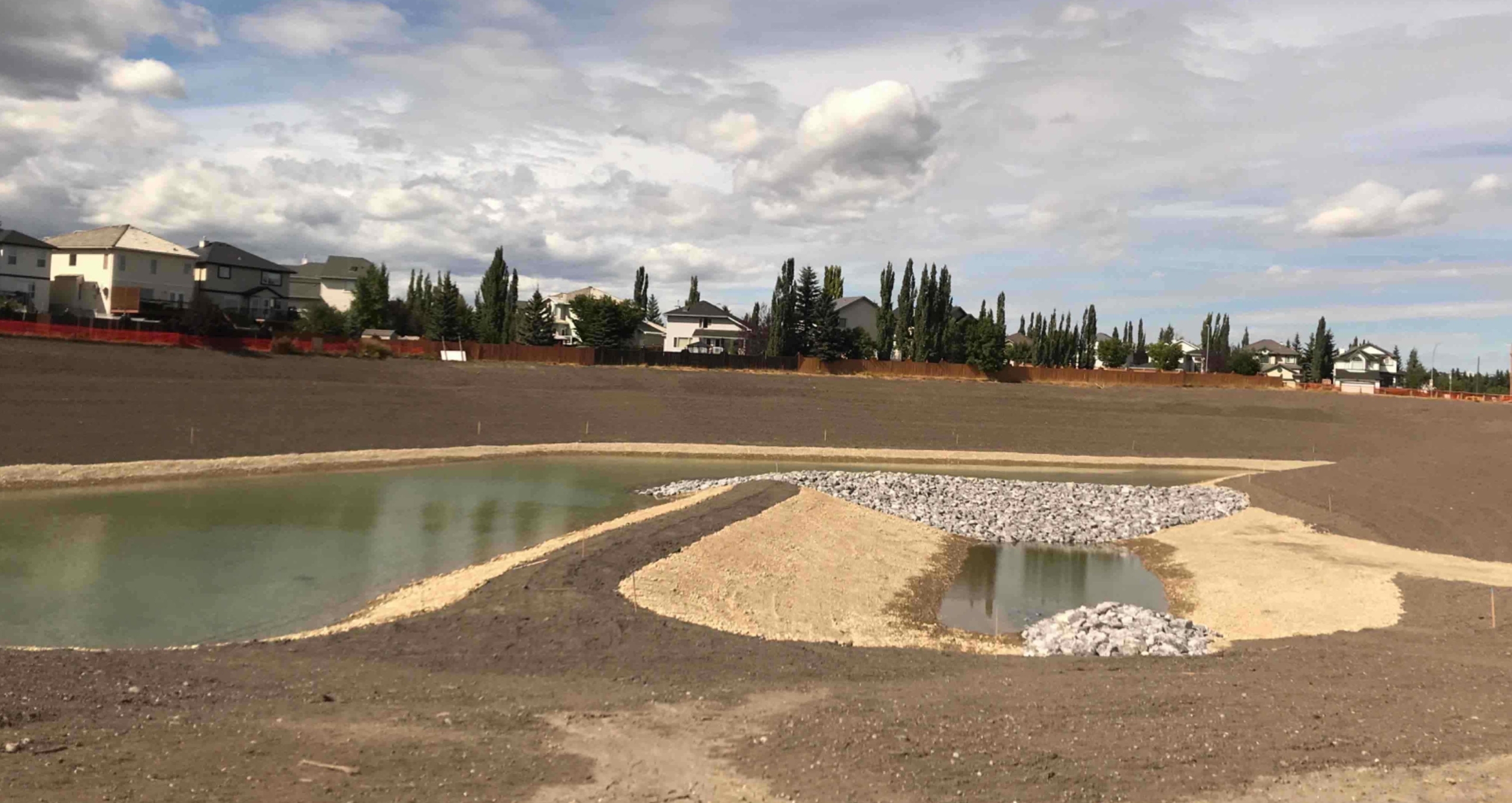 Construction on this stormpond is complete.
Girders lifted February 2021
With the abutments complete, the girders for the bridge have now been lifted into place.
Slope Completion November 2020
Looking southwest, the completed reinforced soil slope covered with hydroseed. Reinforced slopes are cost-effective alternatives to concrete walls that use compacted geosynthetic material to stabilize steep embankments.
Trans-Canada Highway / Stoney Trail interchange
These are the heaviest girders transported in Alberta, traveling through a valley near Hanna. They had to travel to a specific bridge to cross the Red Deer River that could handle its weight.
Valley Ridge Boulevard N.W. interchange (January – December 2020)