August 22, 2023
What's Happening in Traffic
Shifting lane closures on Trans-Canada Highway at Valley Ridge Boulevard N.W.
On Wednesday, August 23 and Friday, August 25, between 7 a.m. and 6 p.m., the ramp from Stoney Trail to westbound Trans-Canada Highway will be reduced to one lane.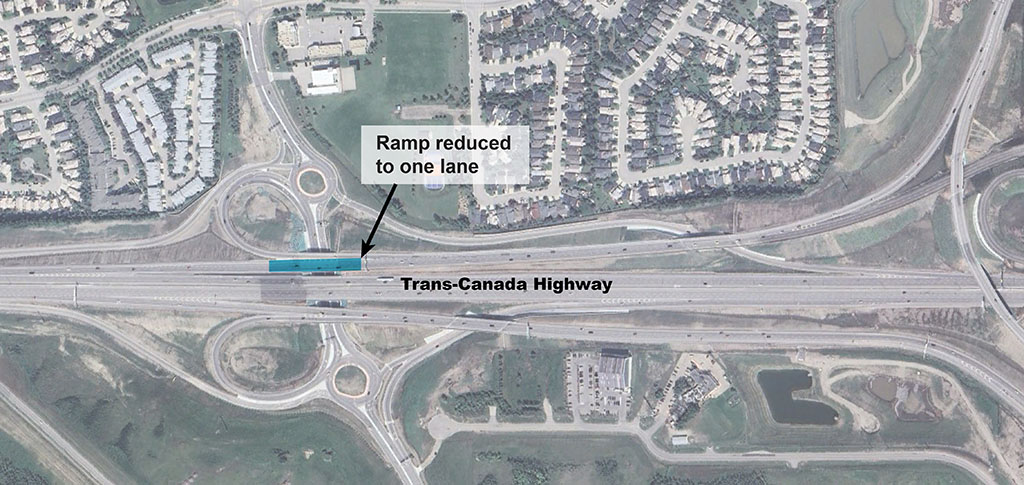 On Monday, August 28, between 9:30 a.m. and 3 p.m., there will be alternating lane closures on both eastbound and westbound Trans-Canada Highway at times reducing to one lane in either direction. Please expect delays and observe onsite signage.
RESCHEDULED: Single lane of alternating traffic on Highway 8
The overhead sign installation on Highway 8 has been rescheduled to Friday, August 25, in the late evening. For several hours starting around 9 p.m., Highway 8 will be reduced to a single lane of alternating traffic. Please expect delays.
---
All work is weather dependent. Please check 511 Alberta and The City of Calgary's traffic information map for up-to-date information on traffic detours and speed reductions. For all other project information, please visit westringroad.ca.
We appreciate your patience during construction.
---

Northbound Stoney Trail Bridge Rehabilitation
Rehabilitation on the original Stoney Trail bridge over the Bow River (built in 1997) continues.
Pathway Repairs
Work to repair the section of pathway washed out by flooding is ongoing. The pathway remains closed during this work.
Reinstating the Snye North of the Bow River
On the north side of the river, a snye (or side channel) to the Bow River was backfilled to provide a temporary pathway connection to the pedestrian bridge. Now the temporary pathway has been removed and work to reinstate the snye is underway.

Extended Work Hours for Paving
Beginning this week and lasting until approximately mid-September, crews will be working extended hours, from 5 a.m. to 11 p.m., to complete paving across the South project site. The work will include back-up alarms on equipment, vibrating drums on rollers to compact the asphalt and trucks entering and exiting the site. People living and working next to the ring road may hear occasional noise, but the work is some distance from adjacent properties and not expected to create a disturbance.
Still a Construction Zone
While we know everyone is eager to use the new infrastructure, this is still a construction zone and entering the site is both illegal and dangerous.
Please continue to respect signage and barriers around the site.
Electrical Utility Installations
From Bow Trail to Highway 8, electrical lines are being installed to power the streetlights.
The contractor is using a remote-controlled trench roller to compact some backfill areas like this one. The operator must stay within sight of the machine but is protected from working in a trench and exposed to less dust and noise associated with traditional compaction equipment.
The smart machine is equipped with a compaction sensor which displays the degree of compaction, reducing the need for frequent density testing.
Highway 8 Stormwater Infrastructure
As the road subgrade for the westbound lanes is finished and before paving, some of the surface drainage infrastructure – like catch basins – is installed. Catch basins can be recognized by their metal grates on the road surface that 'catch' large pieces of debris. Below the surface there is a basin to collect stormwater runoff before it enters the underground drainage system.
https://westringroad.ca/wp-content/uploads/2018/11/WCRR_300x300_icon_5.png
0
0
ErinR
https://westringroad.ca/wp-content/uploads/2018/11/WCRR_300x300_icon_5.png
ErinR
2023-08-22 14:59:14
2023-08-24 15:02:17
Project Update