August 4, 2023
What's Happening in Traffic
Single lane of alternating traffic on Highway 8
On Tuesday, August 8, in the late evening, Highway 8 will be reduced to a single lane of alternating traffic to install overhead signs. Please expect delays.
---
All work is weather dependent. Please check 511 Alberta and The City of Calgary's traffic information map for up-to-date information on traffic detours and speed reductions. For all other project information, please visit westringroad.ca.
We appreciate your patience during construction.
---

Pathway Closure: Valley Ridge to Bowness Park
The regional pathway on the south side of the Bow River remains closed for repairs as a result of flood damage. Further details will be provided as they become available.
Storm Ponds Can Be Dangerous
Please keep children and pets away from storm ponds. Water levels in storm ponds can change quickly and because their purpose is to collect pollutants in water runoff, the water quality is poor.
Please visit The City of Calgary's website for helpful information about storm ponds.

Surfacing Stoney Trail
Last week, the first lift of asphalt was placed on much of Stoney Trail between Bow Trail and 17 Avenue S.W.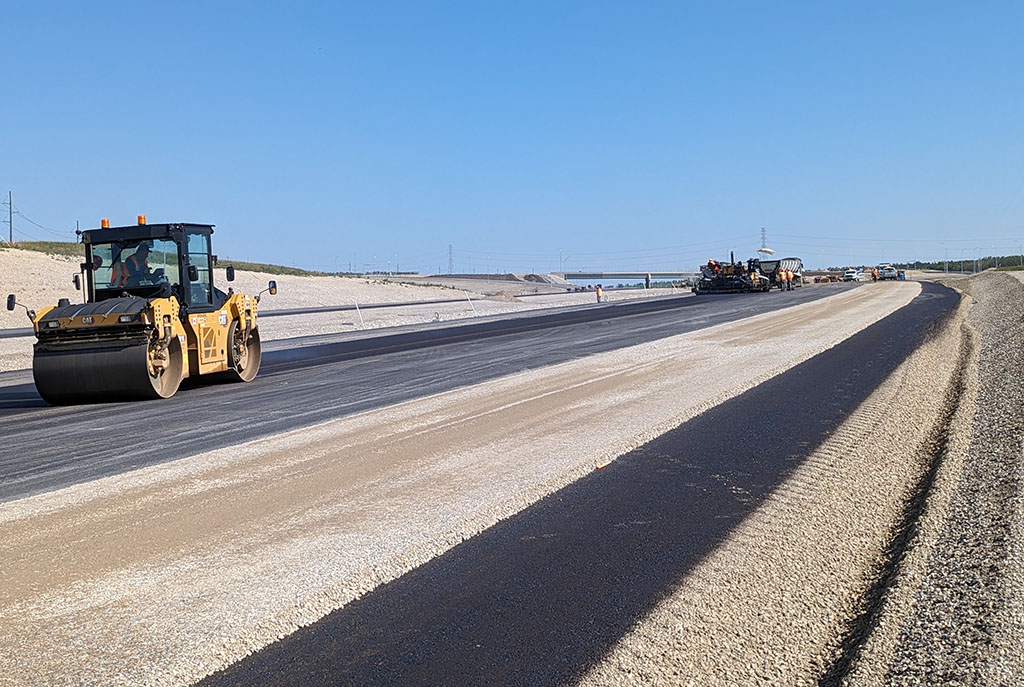 17 Avenue S.W. Transformation
The area around the 17 Avenue S.W. interchange has required considerable earthwork to excavate bedrock deposits to the north and east, add suitable fill for the road subgrade and shape connections to the east, west and south.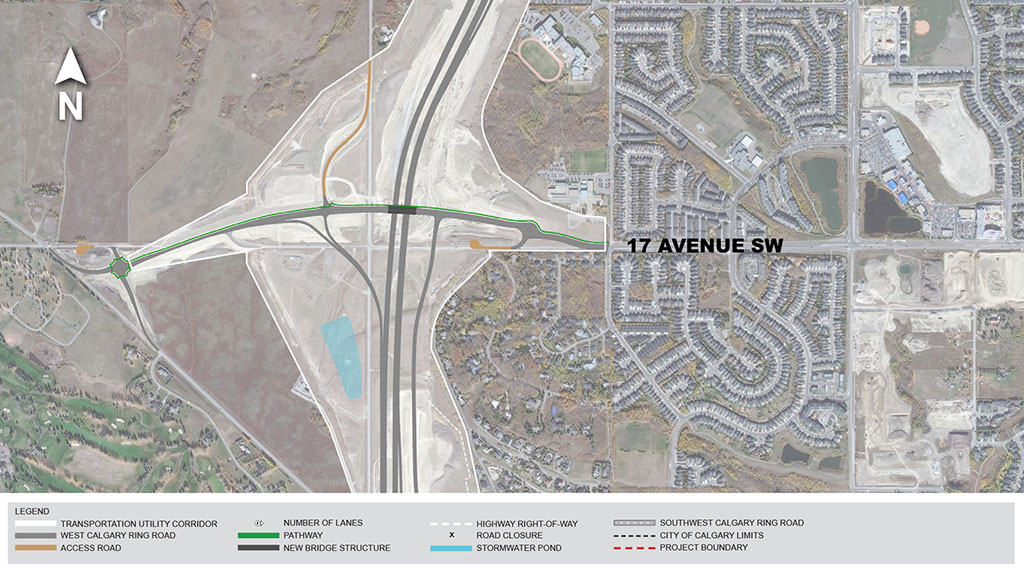 The ramps from northbound Stoney Trail to 17 Avenue S.W. actually start just north of Highway 8.
Highway 8 Interchange
More than 2,000 cubic metres of concrete was used to form the deck on the 225-metre long flyover bridge. This is almost enough concrete to fill an Olympic-sized swimming pool. All sections have now been poured, marking another major milestone as this was the last bridge deck to be poured for the South project.
Roadwork for the interchange is also progressing, with earthwork for most areas approaching final grades.
*Please note: The arrows are meant to illustrate the layout of the final roads; further detouring can be anticipated as Highway 8 interchange construction continues.
https://westringroad.ca/wp-content/uploads/2018/11/WCRR_300x300_icon_5.png
0
0
ErinR
https://westringroad.ca/wp-content/uploads/2018/11/WCRR_300x300_icon_5.png
ErinR
2023-08-04 10:10:43
2023-08-12 10:13:26
Project Update