North Project – A Look Back at 2022
January 10, 2023
A Look Back at the North Project in 2022
What a year! Many project milestones were reached last year. Motorists were able to start using the West Calgary Ring Road as some portions of the project opened to traffic.
The final two bridge decks of the North Project were poured in 2022, with a total of 20 bridge decks being poured over the course of the project.
All eight of the North Project's stormwater management ponds, and one constructed wetland, have been completed.
All major sign structures have been installed for the North Project, including directional signage for Old Banff Coach Road and Bowfort Road / Canada Olympic Drive N.W.
Mainline Stoney Trail has been paved up to the South Project limit, and has been prepared for eventual paving tie ins to the South Project.
Significant progress was made on major roadworks in 2022, and many areas were opened to traffic, including the new ramps connecting the Trans-Canada Highway to Stoney Trail.
Work to widen the Trans-Canada Highway allowed for additional lanes to be opened to traffic.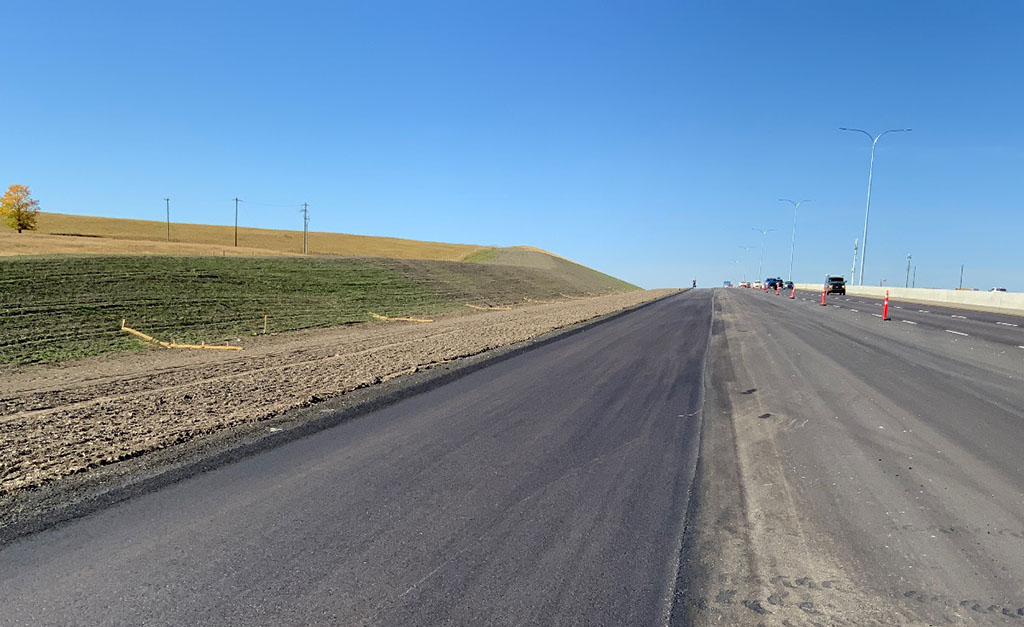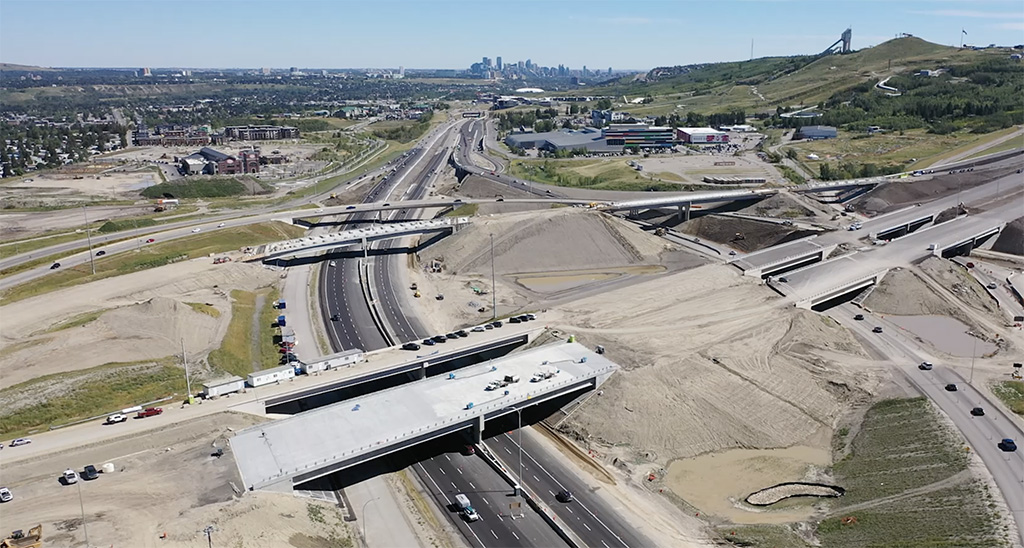 The old Trans-Canada Highway Bridge over Valley Ridge Boulevard was demolished, and the new Trans-Canada Highway / Valley Ridge Boulevard N.W. interchange was opened to traffic.
The temporary Trans-Canada Highway bridge over Valley Ridge Boulevard N.W. was removed once the new mainline bridge opened to traffic.
With the temporary bridge removed, the ramps to and from westbound Trans-Canada Highway and Valley Ridge Boulevard N.W. were constructed.
The exit ramp for Bowfort Road N.W. was relocated and opened to traffic.
By the Numbers
Bridges and structures
20,015 square metres of waterproofing was completed on 15 bridge decks, which is about the same area as 2.5 NHL hockey rinks (source: NHL.com)
364 individual concrete pours totalling 8,050 cubic metres were completed in 2022, which is enough to fill more than three Olympic-sized swimming pools (Source: livestrong.com)
Streetlights
More than 275 streetlights were installed across the North Project throughout 2022.
Stormwater management
Over 15 km of stormwater infrastructure was installed throughout the year.
Hours worked
Approximately 567,000 person hours were worked in 2022, with a total of about 2,037,000 person hours having been worked over the course of the project. 2,037,000 person hours converts to 254,625 eight-hour days.
Fencing
Roughly 10,500 metres of perimeter fencing was installed.
https://westringroad.ca/wp-content/uploads/2018/11/WCRR_300x300_icon_5.png
0
0
ErinR
https://westringroad.ca/wp-content/uploads/2018/11/WCRR_300x300_icon_5.png
ErinR
2023-01-10 12:01:29
2023-01-17 12:02:16
North Project – A Look Back at 2022