Project Update – June 24, 2022
What's Happening in Traffic This Week
UPCOMING: Single Lane Alternating Traffic on Old Banff Coach Road S.W.
In the coming weeks, Old Banff Coach Road S.W. will be reduced to a single lane of alternating traffic to pave the connections between the new bridge and existing road. The tie-ins are anticipated to take about three days and will require several stages. Once the connections are complete, traffic will be shifted to the new bridge.
Please watch for signage and expect delays while the tie ins are being paved.
June 24 and 28 – Southbound Stoney Trail to Eastbound Trans-Canada Highway Ramp Detour
On Friday, June 24, and Tuesday, June 28, 2022, the ramp from southbound Stoney Trail to eastbound Trans-Canada Highway will be closed for overhead bridge work from 10 p.m. to 6 a.m. both nights. Traffic will be detoured to Valley Ridge Boulevard / 109 Street S.W. to get to eastbound Trans-Canada Highway.
June 26 to 30 – Overnight Lane Closures on Trans-Canada Highway at Stoney Trail
Each night from 10 p.m. to 6 a.m., Sunday, June 26 to Thursday, June 30, 2022, there will be intermittent lane closures on the Trans-Canada Highway in both directions for pavement repairs.
---
All work is weather dependant. Please check 511 Alberta and The City of Calgary's traffic information map for up-to-date information on traffic detours and speed reductions.
We appreciate your patience during construction.
Paving the Paskapoo Side of Stoney Trail
After several years of construction to reshape the landscape and construct 13 new bridges for the Trans-Canada Highway / Stoney Trail interchange, it's exciting to see asphalt being laid on the bridge approaches on the south side of the highway.

Finishing Work on Old Banff Coach Road S.W.
The last pieces of surface work are happening on the new bridge. Traffic will be shifted from the detour road to the interchange in July.
Steady Progress on Highway 8 Interchange
It's a new view every week at the Highway 8 interchange, as work on the bridge structures continues.
Overnight Work for Highway 8 Bridge Deck Pour
Another bridge deck for the Highway 8 / Stoney Trail interchange will be poured overnight this Sunday, June 26, 2022. Pouring the concrete bridge deck will involve concrete trucks accessing the site, pumps, cranes and directional lighting.
Minimal disruption is anticipated for adjacent residents; however, additional noise should be expected because of the number of trucks and crew members required for the operation.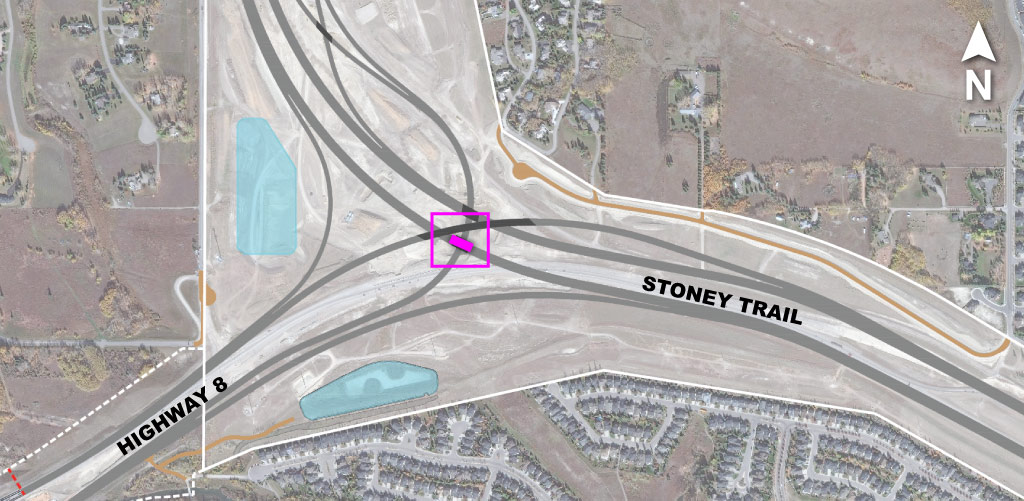 https://westringroad.ca/wp-content/uploads/2018/11/WCRR_300x300_icon_5.png
0
0
ErinR
https://westringroad.ca/wp-content/uploads/2018/11/WCRR_300x300_icon_5.png
ErinR
2022-06-24 14:00:00
2022-06-27 09:54:24
Project Update – June 24, 2022