Project Update – June 6, 2022
What's Happening in Traffic This Week
June 10 and 11 – Single Lane of Alternating Traffic on 1 Avenue S.W.
On Friday, June 10 and Saturday, June 11, 2022, 1 Avenue S.W. will operate as a single lane of alternating traffic controlled by flag people from 7:30 a.m. to 4:30 p.m.
REMINDER: Construction Crossings Are Active
With significant earthworks beginning on the south side of Highway 8 this week, the construction crossing will be more active than it has been recently. In the past, there have been many reports of drivers speeding through the construction zone and failing to stop at the signalized construction crossings.
The traffic signals at the crossings are manually operated; if the light is red there is a large, heavy truck crossing the road.
---
All work is weather dependant. Please check 511 Alberta and The City of Calgary's traffic information map for up-to-date information on traffic detours and speed reductions. 
We appreciate your patience during construction.
April Progress Snapshot
In April, crews put in over 30,000 person-hours, which equals the number of hours worked in the first three months of 2022 combined. All those hours helped to reach an important milestone: shifting eastbound Trans-Canada Highway traffic to a new detour to begin work on the ultimate eastbound lanes.
Widening Westbound Trans-Canada Highway
To accommodate all the movements provided at the Stoney Trail / Trans-Canada Highway interchange, the westbound carriageway is being widened into the median.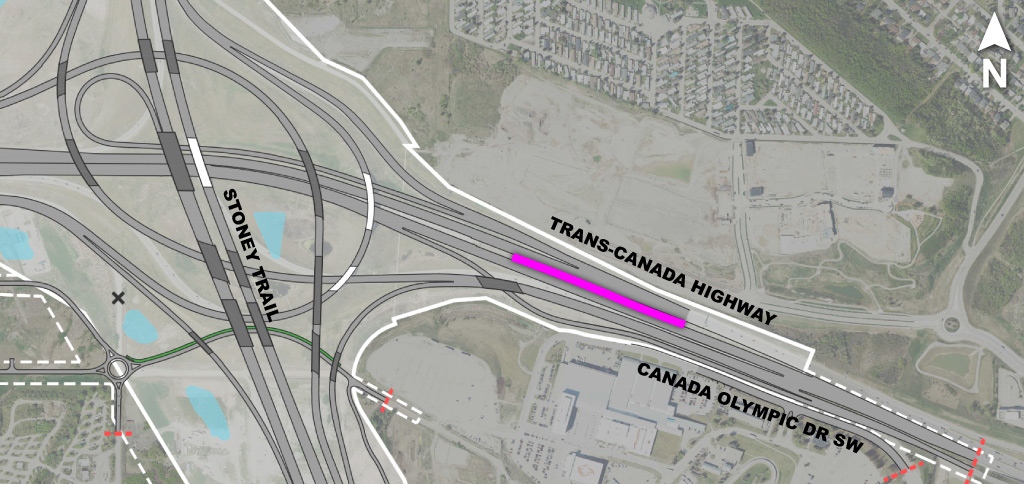 Stormpond Construction North of Discovery Ridge
This week construction will begin on the stormwater management pond – called Lower Junction Pond – located south of Highway 8. Adjacent residents in Discovery Ridge can expect to see a significant increase in construction activity in this area. While the contractor will aim to minimize impacts, nearby residents should expect noise and vibrations from heavy machinery and increased dust.
Bow Trail Pathway Underpass Construction
With the retaining walls started at both ends of the pathway underpass, the underpass itself is being waterproofed before the area behind the retaining walls is backfilled.
A hot-apply rubberized asphalt creates a waterproof membrane around the outside of the culvert
https://westringroad.ca/wp-content/uploads/2018/11/WCRR_300x300_icon_5.png
0
0
ErinR
https://westringroad.ca/wp-content/uploads/2018/11/WCRR_300x300_icon_5.png
ErinR
2022-06-06 14:00:00
2022-06-08 09:52:50
Project Update – June 6, 2022