Project Update – May 23, 2022
Overnight Work: Trans-Canada Highway East of Old Banff Coach Road
Starting this week and lasting approximately one month, crews will be working overnight to break and excavate rock south of the Trans-Canada Highway between Old Banff Coach Road and the western limit of Valley Ridge.
This rock must be removed before the new eastbound Trans-Canada Highway lanes can be constructed and is critical for the overall project schedule. Little to no disturbance is anticipated for adjacent residents as there is sufficient distance between the work area and homes.
Trans-Canada Highway Improvements: Ultimate Eastbound Lanes
With all Trans-Canada Highway traffic shifted north, construction on the ultimate eastbound lanes is full speed ahead.
Stoney Trail Mainline: Southbound Lanes
Last year, the northbound Stoney Trail lanes were paved for much of the stretch south of the Trans-Canada Highway. With the last snow out of the way (hopefully), work on the southbound lanes has resumed.

Old Banff Coach Road S.W. Interchange
The first section of waterproofing membrane has been placed on the bridge deck. Waterproofing tile made of rubberized asphalt creates a waterproof membrane between concrete bridge decks and pavement.
The Old Banff Coach Road S.W. bridge is expected to open this summer. Remaining work includes backfilling the abutments, pouring the approach slabs, road construction and paving to connect the bridge.
17 Avenue S.W. Interchange
In late summer this year, the 17 Avenue S.W. bridge is also expected to open to traffic. Earthworks to grade and shape the road east and west of the bridge are underway.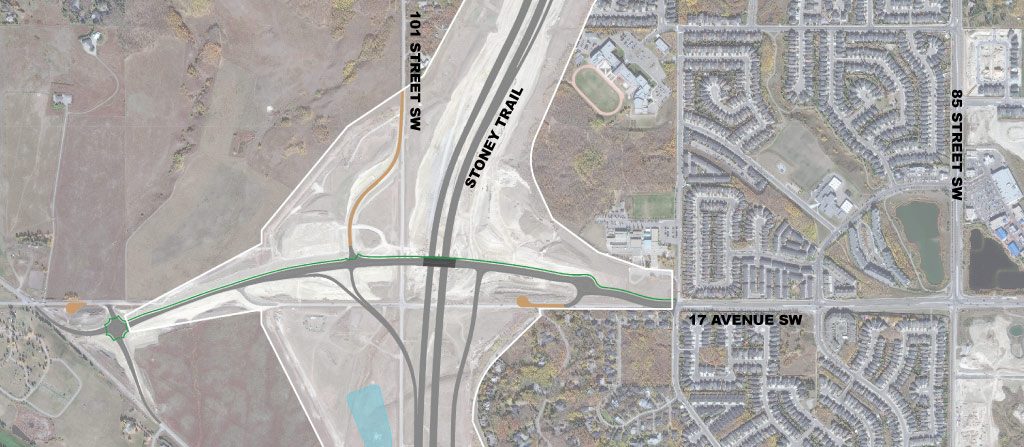 Highway 8 Interchange
All four bridges for the Highway 8 interchange are under construction.
https://westringroad.ca/wp-content/uploads/2018/11/WCRR_300x300_icon_5.png
0
0
ErinR
https://westringroad.ca/wp-content/uploads/2018/11/WCRR_300x300_icon_5.png
ErinR
2022-05-23 14:00:00
2022-05-24 10:39:13
Project Update – May 23, 2022