Project Update – October 5, 2020
What's Happening in Traffic This Week
Crestmont Boulevard S.W. (map below) – Single lane alternating traffic remains in effect.
Delays on Valley Ridge Boulevard N.W. – Last week congestion on Valley Ridge Boulevard N.W. was increased due to frequent haul truck crossings. The contractor is working hard to balance completing critical work on the interchange with maintaining traffic operations for the community. We are monitoring traffic and making adjustments to get residents in and out of the community in a timely way. Please continue to expect some delays as we maximize good weather.
All work is weather dependent. Please check 511 Alberta and  The City of Calgary's traffic information map for up-to-date information on traffic detours and speed reductions. 
We appreciate your patience during construction.

South Pier Construction
Another Section of New Road Opens!
This week another section of the collector-distributor road will open. Traffic exiting from westbound Crowchild Trail N.W. to southbound Stoney Trail will be shifted to the newly constructed collector-distributor road.

Valley Ridge Boulevard N.W. Roundabout Open to Traffic
The North Project marked a major milestone last week with the new roundabout on Valley Ridge Boulevard N.W. now open to traffic.
As with any traffic pattern change, it may take a few weeks for everyone to get 'up to speed' with the new configuration.
24 Hour Work Continues on Valley Ridge Boulevard N.W. Interchange
Crews have been working around the clock to complete time-sensitive work on the Trans-Canada Highway detour north of the existing road. The earthworks and paving for the detour need to be completed before the cold weather sets in.
We acknowledge that continuous construction can be disruptive. The decision to proceed with this schedule was carefully considered and we appreciate your patience.
Trans-Canada Highway Detour
In order to construct the remaining two new bridges for the Trans-Canada Highway / Valley Ridge Boulevard N.W. interchange, westbound Trans-Canada Highway traffic will be shifted onto a detour north of the existing road.
Construction staging can be extremely complicated, especially with the number of vehicles using the Trans-Canada Highway every day. The contractor came up with an innovative strategy that makes use of the first new bridge constructed on the interchange and a temporary bridge installed immediately west, to form the detour for highway traffic.
When construction is complete, the permanent bridge will carry north-south traffic. However, while the bridge is being used for the detour it will carry east-west traffic.
Controlled Blasting Schedule – 3 p.m. to 5 p.m.
Earlier this year the controlled blasting schedule was shifted to between 5 p.m. and 7 p.m. to accommodate other crews in the area and working longer hours during summer months. The blasting schedule has been shifted back to 3 p.m. to 5 p.m., with most blasts happening close to 4 p.m. For more information about controlled blasting, visit westringroad.ca > Controlled Blasting.
Canada Olympic Drive S.W. Re-Opens to Traffic
The utility work along Canada Olympic Drive S.W. has been completed and the road, along with the west entrance to Canada Olympic Road S.W., is once again open to traffic.
Getting Settled
Throughout September, the 13 largest girders on the North project were installed.

Equipment Crossings
Over the next two weeks, temporary signal lights will be installed on Old Banff Coach Road S.W. and on 101 Street S.W. for equipment crossings.
Watch Out for Wildlife
October to January is a peak time for vehicle collisions with wildlife. Collisions with wild animals can result in serious vehicle damage, personal injury, or even death. On average, more than 400 people are injured in Alberta every year because of collisions involving animals. When you consider that a moose can weigh up to 2000lbs and stand more than seven feet tall, it's not surprising that colliding with one can have devastating consequences.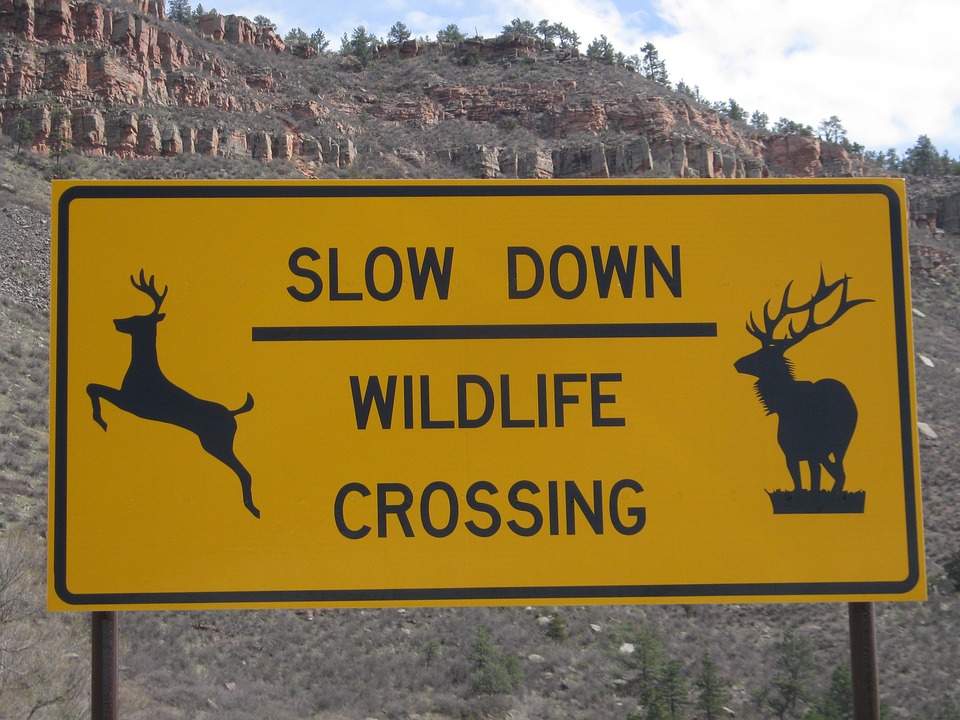 As you travel on Alberta's highways, pay close attention to wildlife warning signs. Alberta Transportation collects and interprets data on collision locations where wildlife crossings and collisions are frequent, and installs signs in those areas. Another tip for staying safe is to lookout for glints of light up ahead. It's very possible that this is your headlights reflecting off a nearby animal's eyes.
Remember that oncoming vehicles flashing their headlights could be warning you of animals crossing the road, and watch for disappearing and re-appearing roadside reflectors as this could indicate an animal is crossing in front of them.
If you encounter an animal on the road:
Look for more than one – some species travel in groups.
Honk in a series of short bursts to encourage the animal to move away from the road.
Brake firmly if the animal is in the vehicle's path but avoid swerving if possible. (With the 9 of 10 exception of moose – with these, swerving may be the safest option.)
Anticipate unpredictable behaviour and give the animal a wide berth when passing.
If a collision occurs, you can report injured wildlife to Alberta Fish & Wildlife.
https://westringroad.ca/wp-content/uploads/2018/11/WCRR_300x300_icon_5.png
0
0
ErinR
https://westringroad.ca/wp-content/uploads/2018/11/WCRR_300x300_icon_5.png
ErinR
2020-10-05 14:00:05
2020-12-03 11:00:24
Project Update – October 5, 2020