The northwest segment of Stoney Trail is currently under construction as part of the Calgary Ring Road. The project includes:
A new bridge over the Bow River, constructed west of the existing bridge, to accommodate additional lanes on the ring road when the west section is complete
Construction of new southbound lanes on either side of the new Bow River Bridge
Road widening on southbound Stoney Trail from north of Crowchild Trail to south of Scenic Acres Link NW to provide new ramp lanes (collector-distributor) and three continuous lanes on Stoney Trail
Reconfiguring the ramp from westbound Crowchild Trail to southbound Stoney Trail to align with the wider road
A new bridge over Scenic Acres Link NW for the exit ramp from southbound Stoney Trail to Tuscany Boulevard / Scenic Acres Link NW
Pathway improvements in the vicinity of the Bow River Bridge
What to expect
Reduced speed limits and temporary lane closures should be expected on southbound Stoney Trail through 2019. Please check 511 Alberta for up-to-date lane closures.

The existing pathway network will be maintained with minor detouring and some permanent re-routing. One section of the pathway on the south side of the river will be closed for approximately one month in the Fall of 2019. This temporary closure is needed for public safety during bridge construction activities. For alternative access, a staircase (with a bicycle access ramp included to wheel bicycles up and down) will be in place. This closure will be publicly signed and advertised in advance.

Please note that The City of Calgary plans, designs and maintains the pathway network and Alberta Transportation provides connectivity through the Transportation Utility Corridor. Once the project is complete, the pathways under the bridges will be maintained by The City of Calgary.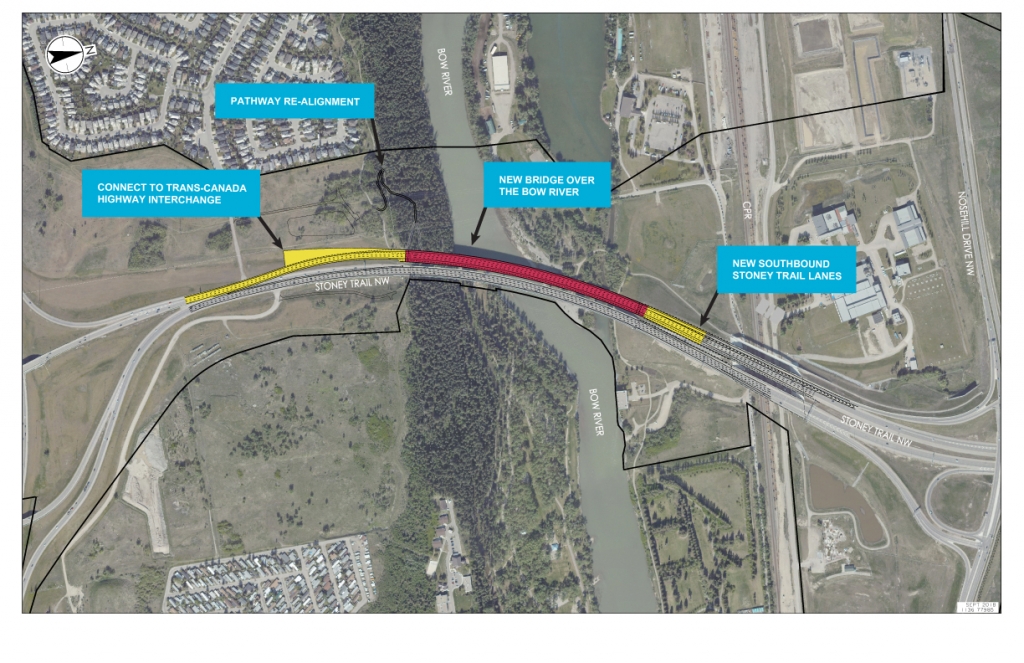 https://westringroad.ca/wp-content/uploads/2018/11/WCRR_300x300_icon_5.png
0
0
ErinR
https://westringroad.ca/wp-content/uploads/2018/11/WCRR_300x300_icon_5.png
ErinR
2019-07-30 13:30:19
2019-09-10 18:05:33
Bow River Bridge construction and Stoney Trail widening